Ebook Creation – Book Parts: Why You Should Not Use the same Parts in the Same Order as a Printed Book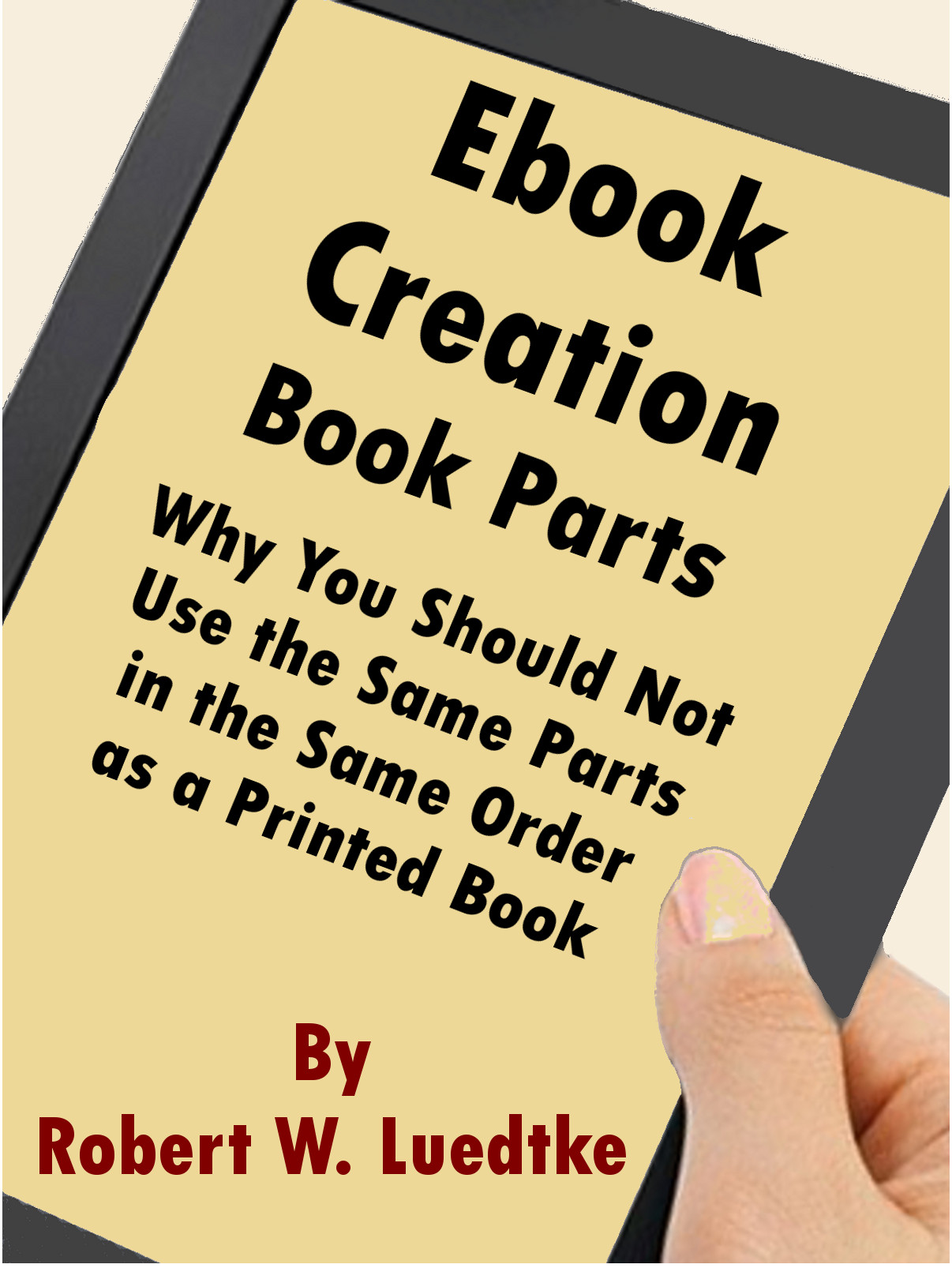 Coming Fall of 2013
Introduction
Electronic books (ebooks) are different from printed books. People read ebooks differently. The book parts that make up the front matter, core content, and back matter, and their order, have a long tradition in printed books. How should these parts and their order differ in an ebook? What should be included? Just the title page, copyright, and core content? Should the dedication go in the front matter or back matter? What parts can or should be left out?
This article (about 17 pages) describes the parts or sections that make up the front matter, core content, and back matter of books. I show the organization of these parts in print books, along with a description of each part. It is the result of researching the recommendations of many authors and marketers of ebooks on the organization of ebooks. I will help you decide what front matter and back matter to include in your book, and a suggested order. I have recommendations for fiction, non-fiction, and non-fiction articles.
Unless you are trying to match the exact layout of some old classic, why should you be restricted to the same layout conventions of print books? There are good reasons not to. You spent much time and effort creating your masterpiece, so put some time and thought in the design of the final ebook and how readers will consume it.
Amazon, Barnes & Noble, and other online booksellers are providing readers the ability to read or preview the first sections of an ebook before they purchase. This is typically 10% of the ebook. This has changed the organization of ebooks to ensure that there is enough content in the preview to convince the reader to buy the book.
I have found that the major publishers are still keeping with the traditional recommendations on book organization, usually based on the style manuals they use.
Independent authors and publishers are breaking this tradition and the organization of ebooks is evolving. The organization is adapting to the way readers will consume ebooks. These ebooks provide good content in the first 10% as a sales tool to increase book sales (3,000 words).
Table of Contents
Introduction
1 Traditional Book Layout
2 Why Change the Layout?
3 Minimum Book Parts for an Ebook
4 Recommended Book Parts for Non-Fiction EBooks
5 Recommended Book Parts for Fiction EBooks
6 Recommended Book Parts for EBook Articles
Conclusion
Appendix A – Resources
Acknowledgments
About Robert W. Luedtke
---